PPI wishes you a Shanah tovah u'metukah, a sweet and happy New Year.
Thank you for your interest in our mission and activities
as well as for you past support to Partners for Progressive Israel.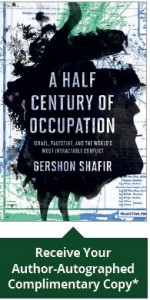 In today's uncertain environment, Partners for Progressive Israel is one of the few organizations with an action agenda that combines education, policy analysis, and advocacy for liberal causes.
Please be as generous as you can to enable us to expand our efforts to connect and mobilize progressive Americans and Israelis.
 In appreciation of your new gift of $500 or more or monthly sustainership, you will receive a complimentary copy of A Half Century of Occupation: Israel, Palestine, and the World's Most Intractable Conflict, autographed by its author, Professor Gershon Shafir.