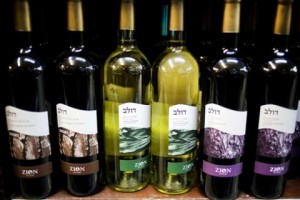 Partners for Progressive Israel supports the recent decision of the European Union to require the labeling of goods and products manufactured or grown in the occupied territories under Israeli rule.  We call upon the United States to adopt a similar measure in order to enable those who wish to express their opposition to the Israeli occupation to do so in a peaceful and appropriately directed way.
It should be noted that Israel enjoys virtually free trade with the EU, and a trade balance amounting to over 30 billion euros.  By sanctioning goods only from the illegally occupied territories, the EU demonstrates its full acceptance of Israel as a state like any other, while by lightly sanctioning goods from the occupied territories it brings its policies with regard to Israel into alignment with its legal prohibitions against trading with occupied territories in effect already with regard to areas such as Turkish Cyprus, Russian Crimea, and Moroccan West Africa.  In fact the EU maintains, or some member states maintain in the case of West Africa, partial or full trade bans with these illegally occupied territories.  The EU has a complete ban on trade with Syria and China with regard to arms that these countries may use for their policies of internal repression.  The EU has no ban on sale of arms to Israel.  Thus Israel joins a long list of nations under EU sanction, and stands out on that list for the seriousness of its transgression, an illegal occupation that has endured almost 50 years, as compared to the minor impediment to trade that is placed upon the territories (labeling, as opposed to embargo).  These facts, along with many others, completely refute the outrageous charge that the EU's actions are in any way anti-Semitic.  Rather, Israel is treated lightly compared to other nations in similar circumstances.
Israel's angry and extravagant charges of anti-Semitism and unfair discrimination against it by the EU are misplaced, and it is deplorable that a chorus of the so-called Opposition in Israel has supported the government in its foolish protests.  PPI notes with approval that the Meretz party and the United Arab List are among the few voices in the country that have defended the European Union's actions; we wish that there were more people and organizations recognizing that these actions are taken in the hope that they will help bring about the end of the illegal occupation that is the central impediment to peace between Israel and an independent Palestine.