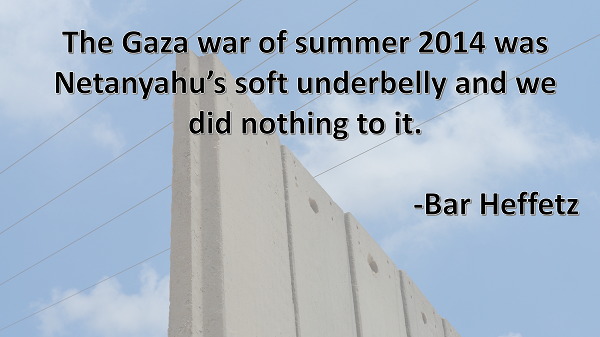 It's been two years since the end of Operation Protective Edge (2014 Israel–Gaza War) and we must admit that we failed.
Israel's government didn't fail. It was actually quite successful. It's easy to be successful if your only goal is to survive, live through another month, and make it to the next election without a war. In the period between elections, the government can ramble on about the construction of dangerous tunnels, checkpoints, the Turks, and occasionally play "who has the bigger cock" with Hamas.
The media also met its goals: everyone knows that Gaza isn't sexy, the Gaza envelope is far away, and people don't want to know or understand. At least until there's a war. And wars are good for ratings. Next time we'll also all unite around our screens, declare "Quiet, we're at war," and fake collectivism.
The IDF might have failed a little. But there's a new Chief of Staff, and there's new tech to deal with the tunnels . . . So what if a few residents on the Gaza border no longer believe a word the army says?
So who really failed? Read More »